31 Mar 2021
The risks healthcare workers face from frequent exposure to Chemotherapy drugs.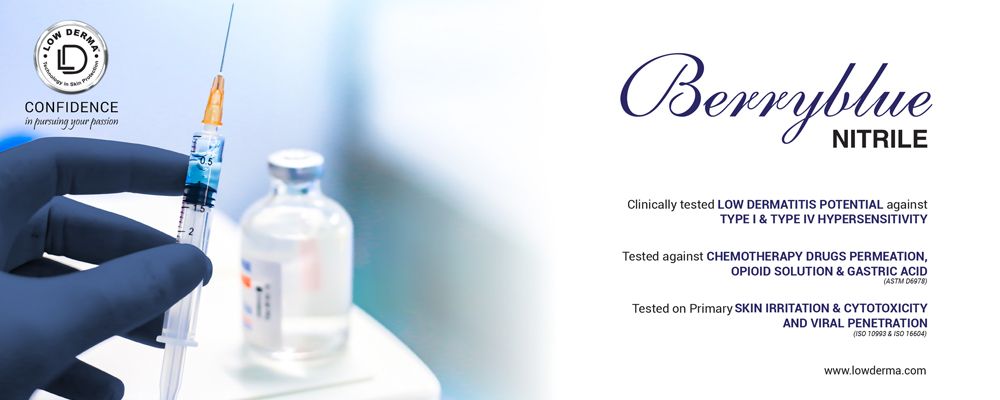 In 2020, the global cancer burden recorded an estimated 19.3 million new cases with almost 10 million deaths. Europe alone accounted for an estimated 2.7 million new cases with 1.3 million deaths. By 2040, the number of cases worldwide is expected to reach 28.4 million.
As cancer rates continue to rise, it follows that there will be an increase in healthcare workers handling chemotherapy drugs during routine cancer treatment, thereby intensifying potential health risks from such exposures.
Exposure to chemotherapy drugs may cause mild problems such as dermatitis, inflammation of mucous membranes, allergic reactions, blistering and in some severe cases, tissue necrosis. Since hands are the first points of contact, it is crucial that the right gloves are used in the handling of these drugs, some of which may be teratogenic, mutagenic or even carcinogenic.
In the Netherlands, leukaemia cases have been reportedly caused by dermal exposure to Cyclophosphamide, a cancer medication that slows or stops cell growth, as well as suppressing the immune system.
In another case, Sue Crump, a healthcare worker, reportedly died of pancreatic cancer at age 55. She was one of thousands of healthcare workers who, for years, were chronically exposed to chemotherapy drugs on the job.
ARE THERE GLOVE STANDARDS FOR THE HANDLING OF CHEMOTHERAPY DRUGS?
Although the European Parliament has mandated that all healthcare workers should wear appropriate Personal Protective Equipment (PPE), which includes the right type of gloves (also known as chemo-gloves) for handling chemotherapy drugs, there are no specific requirements or test methodologies for gloves used in the oncology environment. Currently, it only indicates that chemo-gloves need to be dual marked as both PPE and medical gloves.
In contrast, in the United States, medical gloves used for handling chemotherapy drugs are required to fulfil the International American Society of Testing and Materials Standard (ASTM D6978‐05); a stringent glove resistance assessment on permeation by at least 9 types of chemotherapy drugs.
CHEMO-GLOVE SELECTION
When administering chemotherapy drugs, or handling cancer patients' body wastes, the need for quality PPE is crucial in mitigating the likelihood of unwanted health risks.
There are two important factors in the selection of chemo-gloves – penetration and permeation performance. Penetration is an evaluation of chemical leaks caused by pinholes or other glove barrier defects. As such, it is strongly encouraged to only select gloves with an Acceptable Quality Level (AQL) of 1.5 or more to ensure lower risks of exposure.
Glove users should also focus on permeation, an evaluation process of chemical moving through gloves at a molecular level (microscopic pores). Skin exposure to chemicals occur long before any perceptible feeling of wetness on the inner surface of the glove.
For procedures that expose healthcare personnel to chemotherapy drugs for long periods, it is highly recommended to refer to the rate of chemotherapy drugs breakthrough time as stated in the Material Safety Data Sheet. For optimum protection, other recommendations include: double gloving, using thicker medical gloves, and conducting regular glove changes.
WHY CHOOSE LOW DERMA™ ENHANCED NITRILE GLOVE?
LOW DERMA™ Technology-enhanced nitrile examination gloves are tested with ASTM D6978 on chemotherapy drugs permeation, a standard that employs a testing limit 100 times more stringent than EN16523-1:2015 (formerly EN374-3). It has a minimum breakthrough time of 240 minutes on 14 types of chemotherapy drugs permeation.
It is also important to understand that the 'accelerator-free' claim in the medical product is essentially misbranding specified by The United States Food & Drugs Administration (U.S. FDA) guidelines, as no one can completely assure that there are no accelerators in the medical product. To obtain the 'Low Dermatitis Potential' claim, our nitrile gloves are clinically tested (Modified Draized-95) and is the first to obtain U.S. FDA 510(k) clearance on the claim.
LOW DERMA™ enhanced nitrile gloves are proven to reduce the risk of Type IV Hypersensitivity (commonly caused by Thiurams, Thiazoles and Carbamates) and eliminates Type I Hypersensitivity (caused by natural rubber latex protein). LOW DERMA™️ signature Berryblue Nitrile™️, is a functional colour nitrile glove that helps to ease the stress level of patients suffering from Hemophobia. This unique technology also provides excellent tear strength and tactile sensitivity while offering glove elasticity to reduce hand fatigue during use. Enquire now at info@lowderma.com or visit our website at www.lowderma.com for more information.