25 Aug 2021
NCRI Festival: Making cancer research better together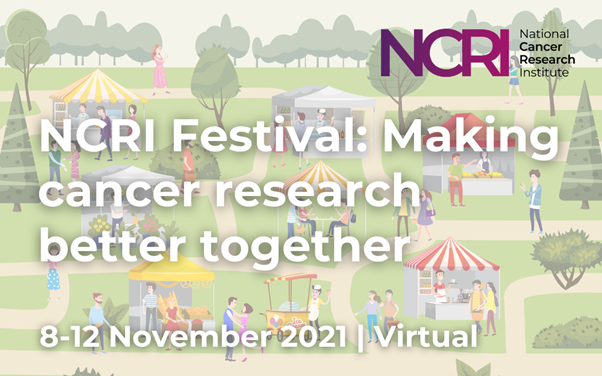 What are your plans for this November?
We know it might seem far away, but there are only 11 weeks left until the virtual doors to the NCRI Festival open (and in our experience, they fly by!), so make sure you register to attend as soon as possible. Taking place on 8-12 November 2021, the 'NCRI Festival: Making cancer research better together' will feature several topical sessions, panel discussions, debates and co-creation sessions, as well as proffered paper presentations highlighting the latest updates in cancer research.
The NCRI Festival (running in place of the annual NCRI Cancer Conference – which you may be familiar with) has been designed for oncology professionals to inspire and be inspired by others in the cancer research community, but we appreciate that everyone has busy schedules, which is why we're running the event throughout the week – so you can join sessions at your leisure. Check out our programme online to see which sessions you'd like to attend, but don't worry if you're not around for them all as the recordings will be available for 30 days after the event, so you can catch up when it suits you. We've also included some exciting interactive sessions (in keeping with our festival theme) on the 'Fringe Stage' - including live from the laboratory, book club, cooking, and relaxation time - because learning is much more enjoyable when you're having fun!
With over 30 educational sessions to choose from, there really is something for everyone on this exciting programme! Join us this November to hear from our fantastic line-up of eminent speakers, who have been handpicked based on their expertise in the field. We're sure you're just as excited as us to find out more about their ground-breaking research and hear about their thoughts on key topics in the strategic discussions.
View our programme: https://conference.ncri.org.uk/ncri-festival-programme/
Register your place: https://conference.ncri.org.uk/ncri-festival/register/