29 Jun 2021
Improving early cancer diagnosis with better detection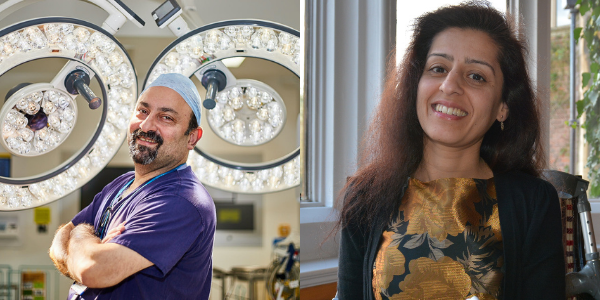 Early diagnosis translates into longer survival for cancer patients.
Nine out of ten people diagnosed with cancer visit their GP with vague symptoms in the year prior to cancer diagnosis. The UK two-week wait initiative, aimed at reducing the diagnostic and treatment intervals, is based on recognition of red flag symptoms.
However, only half of cancer patients ever develop these, whilst the other half present with non-specific symptoms until red flag symptoms appear/present as an emergency. Interventions beyond clinical guidelines for 'vague' symptoms are needed to improve diagnostic timelines.
It is estimated that, if diagnosed early, 5,000 cancer deaths could be prevented every year for breast, colorectal and lung cancers alone. Therefore, the Rapid Diagnosis Centres programme was formed to help improve England's cancer survival rates. This, however, requires clinicians to conduct tests on a greater number of individuals than turn out to have cancers which creates undue worry for patients whilst waiting for test results and may not be the most efficient use of NHS resources. However, we know a significant proportion of cancers are diagnosed via other routes, often when it is too late to cure them.
NHS Long Term Plan
The core aim of NHS Long Term Plan is to diagnose 75% of cancers at an early stage and save 55,000 more lives a year by 2028 (NHS Long Term Plan, 2019). Thus, the NHS has supported rapid diagnostic centres in England and Wales to facilitate early cancer detection for patients with non-specific symptoms (such as weight loss, fatigue, appetite loss, abdominal pain and "GP suspicion") and provide streamline investigations. These centres were nationally launched in 2020 with an aim to ensure that patients receive a definitive diagnosis or ruling out of cancer within 28 days.
Biomarkers could facilitate screening
To date, most studies aimed at identifying early-stage biomarkers of cancer have used samples from patients already diagnosed with cancer. They are therefore compromised by both late changes during cancer development that may not be seen in early-stage disease and the general poor health of patients with advanced disease. Future early detection research should include relevant early-stage, pre-diagnostic samples from tailor made cohorts in order to validate existing biomarkers and offer chances of discovering new biomarkers of early cancer. We need non-invasive biomarker test(s), that helps include/exclude patients for further imaging studies.
Investing in new technologies to facilitate early cancer detection is a prime need for cancer researchers and the ongoing efforts to underpin genomic and metabolomics signals could achieve the breakthrough very soon.
Read more about the innovations in oncology here: https://www.healthawareness.co.uk/campaign/oncology/
Written by
Dr Afsana Elanko,
Director of Education,
British Association of Surgical Oncology
(BASO-The Association for Cancer Surgery)
Mr Zaed Hamady
Consultant Pancreatic and Liver Surgeon
University Hospital Southampton NNHS Trust
President elect BASO-The Association for Cancer Surgery