28 Apr 2021
Bowel Cancer Awareness Month - AI & Bowel Cancer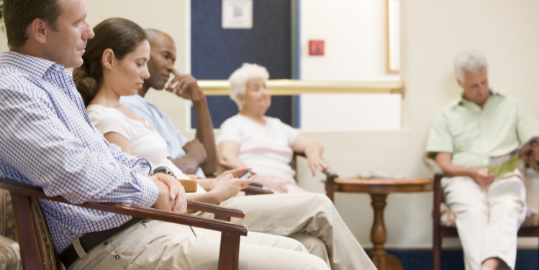 Last year, we saw AI algorithms were able to 'outperform' doctors when diagnosing breast cancer. In this last month, a new blood test using AI has been developed to detect early signs of bowel cancer. Now a new test which uses artificial intelligence (AI) to measure proteins in some patients with advanced bowel cancer could hold the key to more targeted treatment, according to new research.

A team at the University of Leeds have collaborated with researchers at Roche Diagnostics to develop the technique to diagnose advanced bowel cancer, which will help doctors and patients to decide on the best treatment options. The researchers published their findings in the journal Clinical Cancer Research.
They used samples from a previous trial funded by Cancer Research UK to look at the levels of two proteins, known as AREG and EREG, which are produced by some colorectal cancers. Algorithms driven by AI enabled the researchers to show that patients with higher levels of these proteins received significant benefit from a treatment which inhibits a different protein involved in cancer cell growth, known as EGFR. Equally important was evidence that patients with low levels of the proteins did not benefit from the treatment.
Currently, anti-EGFR treatments are only given to patients with advanced, incurable bowel cancers. The researchers hope their methodology could be used in the future to identify patients in the earlier stages of illness who could also benefit from the drugs.
Lead author of the report, Christopher Williams, from Leeds University's Division of Pathology and Data Analytics, said: "As more treatment options become available for advanced colorectal cancer, it is becoming increasingly difficult for patients and their doctors to choose the treatment that's right for them. This test will help patients navigate this decision-making process more easily."
Today's publication of the findings in the journal Clinical Cancer Research is timely as it coincides with Bowel Cancer Awareness Month in the UK. The study was funded by Innovate UK and Roche Diagnostics as well as Yorkshire Cancer Research. It was part of a programme of work in this field being conducted by the National Pathology Imaging Co-operative.
The report's senior author, Kandavel Shanmugam, a senior director of medical innovation at Roche Diagnostics, said: "As increasing numbers of complex tests are developed to target the right cancer treatments to the right patients, developing streamlined methods for delivering test results will be essential to improve cancer care. By using artificial intelligence to semi-automate the test process, we anticipate it may be easier for results to be delivered to patients faster to better influence treatment decisions."

This follows news an AI blood test, that was developed earlier this month, can now detect early signs of bowel cancer. CanSense, a Swansea University-spin out, has spent seven years developing a cancer test that can be performed at local GPs to avoid lives lost through delayed detection.

In the UK bowel cancer is the second most common cause of cancer death behind lung cancer. Each year 42,000 people are diagnosed with the disease, which equates to one diagnosis every fifteen minutes and sadly, one person dying every thirty minutes. However, if diagnosed early, bowel cancer is one of the few cancers that can be cured with early action and without the need for major surgery.

Bowel cancer detection typically includes a patient referral to hospital and ending in a colonoscopy. CanSense's blood test eliminates the unnecessary colonoscopies for the many that fortunately don't have bowel cancer, saving the NHS £250 million per year, which can help clear the bottleneck helping speed up the process for those at greatest risk.

Adam Bryant, CEO and business founder of CanSense, said: "I think everyone in their life is impacted by cancer which has certainly motivated the team to develop this technology – to save lives through early detection, so others don't have to experience late-stage diagnosis of friends or family. For over seven years, the team has been working on this technology that uses a combination of laser spectroscopy and artificial intelligence. Our blood test produces a spectral 'fingerprint' from which the patient's cancer activity can be recognised by comparing it to our database of thousands of blood samples, telling us the level of cancer present in the blood and the urgency for treatment."
The success in clinical trials has secured CanSense the support of the Welsh Government's Accelerated Growth Programme (AGP, and grant support from Cancer Research Wales and Health and Care Research Wales.

April marks Bowel Cancer Awareness Month, but unfortunately the UK is one of the worst performing nations for early diagnosis of cancer, with survival figures some of the poorest in Europe. Now with these new tests, there brings new hope we can improve cancer detection rates and improve patient outcomes.

For the latest innovations from the world of Oncology, including guidance for making your approach to medicine as effective and inclusive as possible, make sure you don't miss our Oncology Convention, taking place on the 15th and 16th of September this year. It's an opportunity to hear from the leading thinkers within the colorectal field, all while gaining free CPD points! Register for free now!